Total Barre is a high-energy and dynamic program that integrates elements of Pilates, dance, cardio and strength training. Our staff creates safe and fun classes that focus on increasing strength, flexibility, stamina and dynamic stability. It truly is a class for all fitness levels!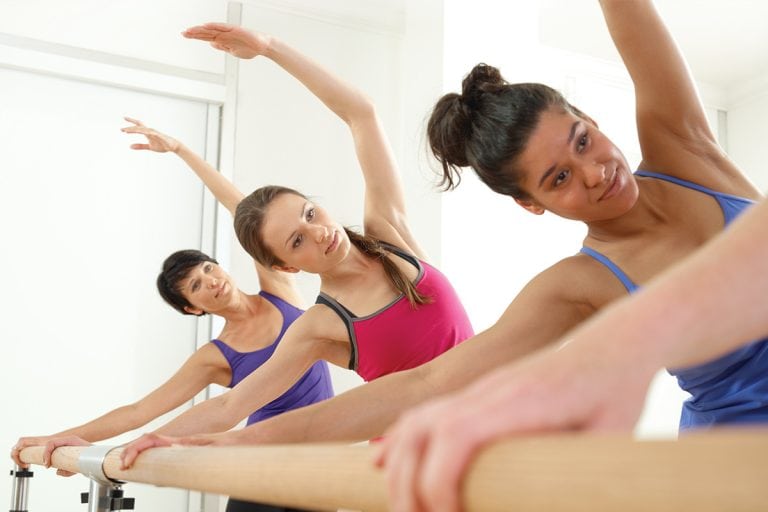 How are our classes different than other Barre methods?
Our barre classes utilize Total Barre exercises and programing created by STOTT PILATES®, the Ivy League of Pilates education. Our barre classes incorporate the STOTT PILATES Five Basic principles – these biomechanically based body awareness fundamentals are integral to the effective teaching and practice of all Total Barre exercises. Our instructors focus on not only instructing exercises, but also provide cues that challenge and correct form and alignment. Our barre classes avoid endless repetition of movements and we don't "tuck" like most other barre programs.
I'm older, can I still do a barre class?
Clients with limited mobility or restricted movement need not shy away from exercise. Research shows that all active adults can benefit from exercising with music as it helps improve learning and memory, builds self-esteem, reduces stress and increases social interaction. We can safely modify all exercises for less mobile clients. You will leave with increased flexibility, balance, and postural stability.
I'm pregnant, can I take a Barre class?
Absolutely! First, always check with your physician before starting any new fitness program. Expectant and new mothers alike will reap the benefits of our barre classes. Not only will our barre classes keep new moms and moms-to-be moving, but moving to music will help tackle self-image issues, reduce stress, combat postural and muscle imbalances, and increase social interaction. Our classes will increase flexibility, balance, joint stability and pelvic floor activation all while boosting moods and lifting spirits.
What are the benefits of a Barre class?
There are so many benefits, but here are a few to get you excited about class:
Stronger abs and back muscles
A lifted derrière
Improved endurance and overall energy
Increased flexibility
Greater body awareness and improved posture
What can I expect when I walk into a Barre class?
You can expect a high energy workout that will sculpt your body in a way that all body parts are challenged. We often like to add props like stretch bands, fitness circles, weights and balls to make the class more intense and of course, more fun! Our barre classes move quickly, so expect some cardio while working on strength, stability, and stamina. Each instructor has their own teaching style and personality, so give each of us a try!